NOTE: WebPA(f) is now supported by UQ eLearning Systems and Support as part of the Group Peer Assessment tool. UQ staff requiring assistance should contact help@elearning.uq.edu.au
WebPA(f) is a part of a process for Proactively Ensuring Team Success (The PETS Process). We believe that the tools are best used as part of a larger systematic approach and hence would encourage you to read on.
However, if you're already across this and are just interested in the tools that we have developed to support the process, then please cut to the chase:
The PETS Process
The PETS process was designed to: (i) assist students to achieve graduate outcomes associated with teamwork, (ii) enhance the student experience, and (iii) improve the functionality and performance of student teams engaged in group projects.
It is important to note that the PETS process is not a quick fix nor is it a substitute for content. Instead, it is an effective teamwork overlay requiring good project management and a reasonable investment of time. It includes a number of inter-related actions:
purposeful allocation of students to teams based on a team skills inventory and/or prior knowledge of student attributes;
student self-assessment of teamwork attributes;
explicit student skill development in team dynamics using classroom learning, mentoring and assessment;
tailored project features and assessment;
individual and team structured reflection;
anonymous peer evaluation and assessment of team members; and
team mentoring and monitoring.
WebPA(f) – A tool for ensuring that team members get the grades they deserve, and for proactively identifying team dysfunction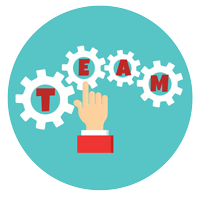 WebPA(f) is a web-based peer-evaluation tool that can be used to evaluate the individual contributions within a team, and to identify team dysfunction. It is based on WebPA, an open source tool developed by Loughborough University (UK). The tool is a key element of the PETS (Proactively Ensuring Team Success) process, and has been tested, evaluated and continuously improved across a range of disciplines since 2002.
What does the tool do?
Summatively: The calculated Peer Assessment Factor (PAF) can be applied to team marks to generate an adjusted mark for each student.
Formatively: Feedback to the team on peer-assessed performance via mentoring has been shown to be highly efficient in correcting team dysfunction.
How does it work?
Students are asked to split 100 marks between the members of their team, including themselves, for a set of lecturer-specified criteria. The system manages the collection of student responses, calculates PAFs and SAPAs (Self-Assessment over Peer Assessment), and facilitates moderation via a user-friendly dashboard. Results can be downloaded to a spreadsheet or uploaded to a Learning Management System.
Teaching staff can use student comments, PAFs, and SAPAs to identify dysfunctional teams and put appropriate support strategies in place.
Project team/Contacts
Title
First Name
Last Name
Affiliation
Role in the project
Contact

Professor

Lydia

Faculty of Science

Lead CI

l.kavanagh@uq.edu.au
​+61 7 3365 4264
Project Status
The project is complete. The Loughborough tool was significantly tailored by UQ.
UQ's Information Technology Services (ITS) developed the tool as a building block to improve performance speed and group synchronisation and now provide institutional support for the tool which is linked into Blackboard. The tool is currently being used across disciplines at UQ. In addition:
The University of Adelaide concluded a pilot in 2016. The pilot evaluation revealed that academics realised benefits through use of the tool, and that the tool was especially useful in reducing the amount of time taken to perform and administer student peer assessment evaluations. (see full Evaluation Report); and
UQ ITS facilitated the transfer and implementation of the tool by QUT in 2016.
Resources
The following Step-by-Step guides are available for users:
Technologies Used
LTI integration, Blackboard building block
Acknowledgements
UQ Peer Assessment and WebPA(f) developed at UQ are based on the WebPA tool designed and developed by the Centre for Engineering and Design Education at Loughborough University. WebPA(f) is licensed under a Creative Commons Attribution-ShareAlike 4.0 International License.
Publications
Kavanagh, Lydia, Neil, David and Cokley, John (2011) Developing and disseminating team skills capacities using interactive online tools for team formation, learning, assessment and mentoring: Final report 2011 Australia: The Australian Learning and Teaching Council
Kavanagh, L. and Steer, J. (2007) A process for proactively ensuring student team success: perceptions of students and lecturers,Australasian Association of Engineering Education (AAEE) Conference, Melbourne Dec 2007 AAEE conference proceedings.
Kavanagh, L. and Crosthwaite, C. (2007) Triple objective mentoring: achieving learning objectives with chemical engineering students, IChemE Trans D, 2: 68-79