Help! is a customisable communication portal embedded in Blackboard that directs students to the appropriate resource or person (via a form requesting relevant details) to answer their queries.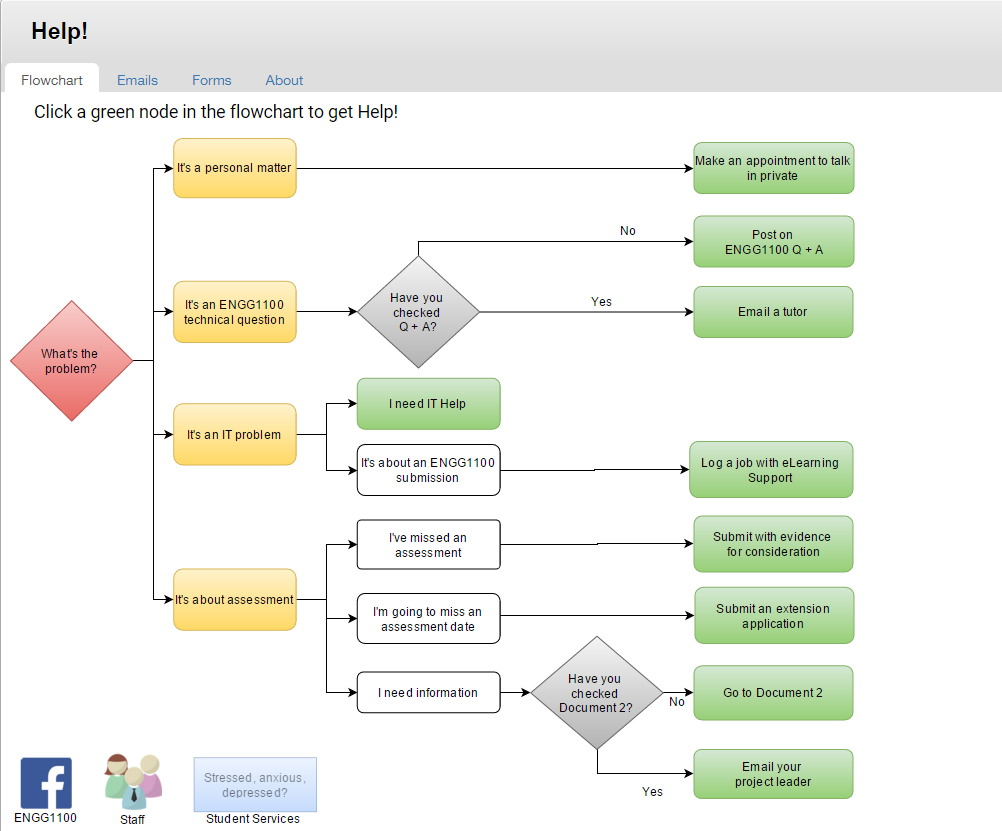 How does it work?
The interactive Help! flowchart illustrates the required steps and directs students to appropriate resources and forums (Self / Peer / Staff). Where email communication is necessary the student's message is added to a queue to keep track of/ analyse requests for help. The system captures student's ID and name , issues a ticket response and relays the request to the person in charge.
This ensures efficient communication: all necessary information is relayed to the correct person. This ensures that submissions are recorded and tracked, so that follow-up is easy for both staff and students and common student concerns can be easily recognised and can inform effective action.
Such timely access to appropriate and relevant resources and recommended strategies - a clear way forward - encourages students to help themselves and communicate appropriately and effectively.
Project team/Contacts
Title
First Name
Last Name
Affiliation
Role
in ​the project
Contact
Professor
Lydia
Kavanagh
Faculty of EAIT/
School of Mechanical and Mining Engineering
Lead CI
l.kavanagh@uq.edu.au
​+61 7 3365 4264
eLIPSE
Software development team
elipse@eait.uq.edu.au
+61 7 334 68018
Project Status
eLIPSE is now collaborating with the coordinators of a range of courses in Engineering, Public Health and Science to improve tracking and reporting capabilities.
Resources
Technologies Used
LTI, JavaScript, HTML, PHP
Acknowledgements
An initial prototype of Help! was developed and piloted by Lydia Kavanagh in semester 1 and 2, 2014.
The project is supported by UQ Technology Enhanced Learning (TEL) strategic funding.